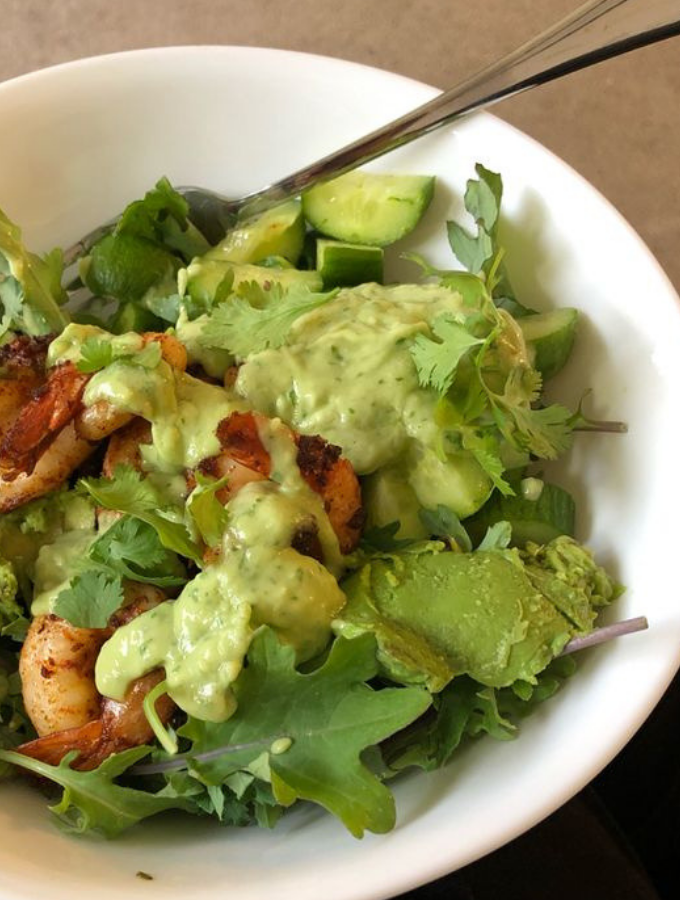 This avocado shrimp salad topped with a homemade miso dressing will forever change the way you think about salad.
This salad is loaded with nutritious ingredients. Spicy shrimp for your protein intake, spinach or baby kale to deliver essential vitamins and fibers, and avocado to provide you with good for you fats. There is also cucumber for extra crunchiness. And you drizzle all with the miso dressing for a fresh and citrusy flavor.
It's definitely filling. And it'll become your new favorite thing.
Note about the dressing: it's made with the miso paste and it has a unique taste. So if you're not sure if it's in your liking or not you can opt for a different dressing. Or, you can get out of your comfort zone and try something new.
I won't keep you waiting. Since no matter what I say about this salad I won't do it justice. So, YOU have to taste it yourself
An avocado shrimp salad topped with a homemade miso dressing that will forever change the way you think about salad.
Ingredients
FOR THE SALAD:

1 tsp minced garlic
½ lb raw shrimp(tails removed)
½ tbsp butter
½ tsp chili powder
¼ tsp cayenne
1 ½ cups avocado(2 small,sliced)
1 cucumber
4 cups chopped spinach or baby kale
Fresh cilantro for topping(chopped)
Peanuts for topping

FOR THE DRESSING :

1 1-inch piece of fresh ginger(peeled)
3 tbsp oil
3 tbsp lime juice(more to taste)
2tbsp agave nectar
1 ½ tbsp white miso
½ tsp garlic(minced)
¼ tsp salt
Instructions
1. In a small skillet heat the butter over medium high heat. Add the garlic and the shrimp (spread out so they cook evenly). Sprinkle with the seasoning (chili powder and cayenne) directly in the pan. Sauté on each side for a few minutes until the shrimp a nice golden color on the outside and are no longer clear. Remove and set aside
2. Cut the avocados in half, cut vertical and horizontal lines through the avocado and scoop the flesh out with a spoon. Next, peel and dice the cucumber. Then Chop the spinach or baby kale into small bite sized pieces. Arrange everything in a bowl along with the shrimp.
3. In a food processor combine all the dressing ingredients and puree until smooth (Taste and adjust to your preferences). Top the salad with the miso dressing. Finally, add a little bit of fresh cilantro and peanuts and serve immediately.