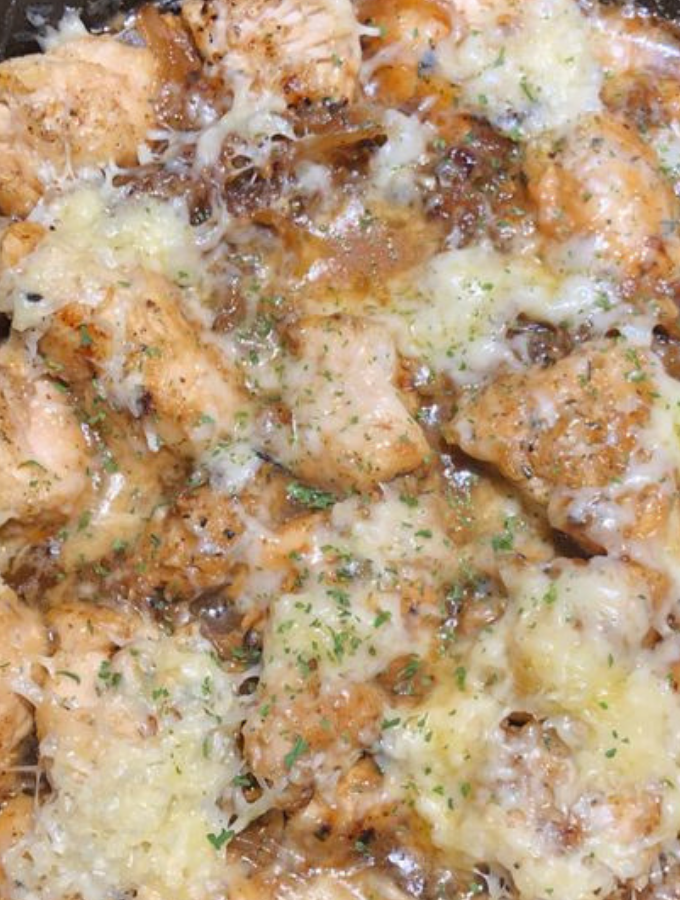 We all love recipes that come together in one skillet and in less than one hour. And this French onion chicken recipe doesn't disappoint.
It's inspired from the onion soup recipe. We just added chicken for protein making it a full meal. So for all you french soup lovers out there I bet you you'll go crazy for this cheesy chicken skillet. It's such a heavenly dish that will get you hooked after one bite!
It's straight forward and so simple to make. To start with, you'll need to caramelize the onions on low heat (better use Vidalia onions as they're sweet. That means no bitterness).
This will take some time (20-30 min). Then, you make a sauce to coat the onions and chicken with. Finally, you top all with cheese and throw it in the oven until the cheese is perfectly melted and the chicken is cooked to perfection.
Get ready to have you minds blown!
Perp

Cook

Ready In

Yield

4
Ingredients
2 lbs lb boneless, skinless chicken breast or thighs
2 lbs Vidalia onions(sliced)
2 cups beef broth
1 cup Swiss cheese(grated)
1/3 cup extra virgin olive oil(divided)
2 tbsp all purpose flour
½ tsp dried thyme
½ tsp dried sage
2 tsp balsamic vinegar
Kosher salt and freshly ground pepper(to taste)
Instructions
Preheat the oven (350°F).
In a large oven-safe skillet heat 2 tbsp of olive oil. Add the sliced onion, season with salt. Stir around for about 15-20 min until the onions are soft and caramelized.
Put in balsamic vinegar. Cook until brown or for 3-5 min. transfer to a bowl and set aside.
In a skillet heat the remaining olive oil over medium high heat.
Season the chicken breasts (with salt, pepper, sage and thyme). Cook on both side for 4-5 min or until golden brown. Remove and set aside.
Bring to boil the beef broth in the skillet. Scrap the stucked bits from the bottom of the skillet.
Over medium low heat whisk in the flour (stir until smooth). Cook for 5-7 min, or until the sauce had thickened. Adjust seasoning if necessary.
Put in back the chicken and onions. Stir together with the sauce. And top with cheese.
Place the skillet in the oven. Cook until the cheese is melted and the chicken is cooked through.
Remove from the oven and serve hot.
Enjoy!