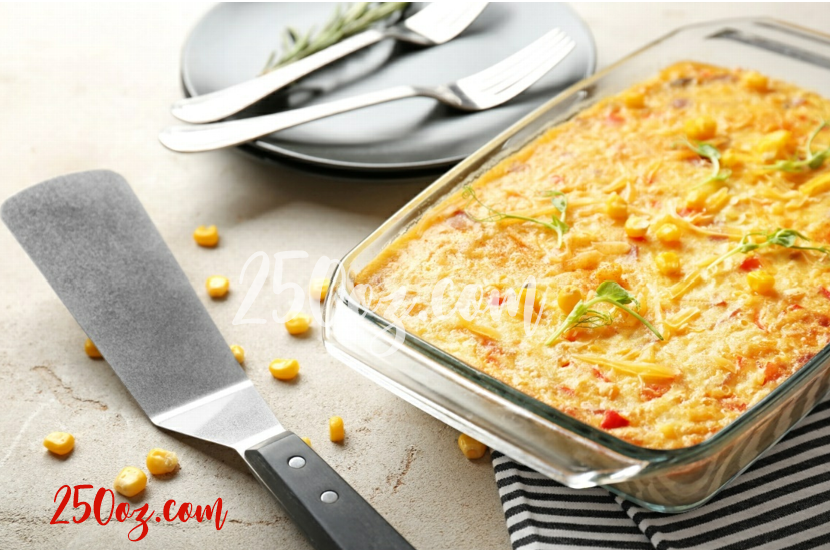 Corn pudding is one of the most popular recipes from the American South. Corn pudding casserole has been around for centuries and stem from the British pioneers that came to America with their pudding recipes and from the Native American usage of corn as their main food staple. Every year, it shines as a star over many Thanksgiving tables. There are so many reasons why this recipe is one my all-time favorites; one of them is surely its quick and easy preparation. Its rich consistency and delicate flavors make it absolutely unique.
Perp

Cook

Ready In

Yield

8
Ingredients
2 teaspoons baking powder
1½ teaspoons salt
¼ cup sugar
3 tablespoons all-purpose flour
2 cups heavy cream 6 large eggs, whisked
½ cup butter, melted
6 cups fresh corn kernels (about 12 ears) (if using frozen corn, thaw first)
½ red bell pepper, diced thin
Instructions
Combine the flour, salt, baking powder and sugar in a medium-large bowl.
Whisk the eggs in another bowl. Mix in the butter and whipping cream.
Add the flour mixture and combine well to make a smooth mixture.
Mix in the corn and peppers.
Preheat the oven to 350°F. Grease a 9x11-inch baking pan.
Add the mixture evenly to the baking pan.
Bake for about 30 minutes until cooked well and golden brown.
Serve warm. Optionally, you can use ramekins and bake for 40–45 minutes or until well set.
Optionally, if you want to add a Southwestern touch, add ¼ teaspoon ground cumin and 1 (5-ounce) can of chopped green chilies to the mixture. Bake until well set.