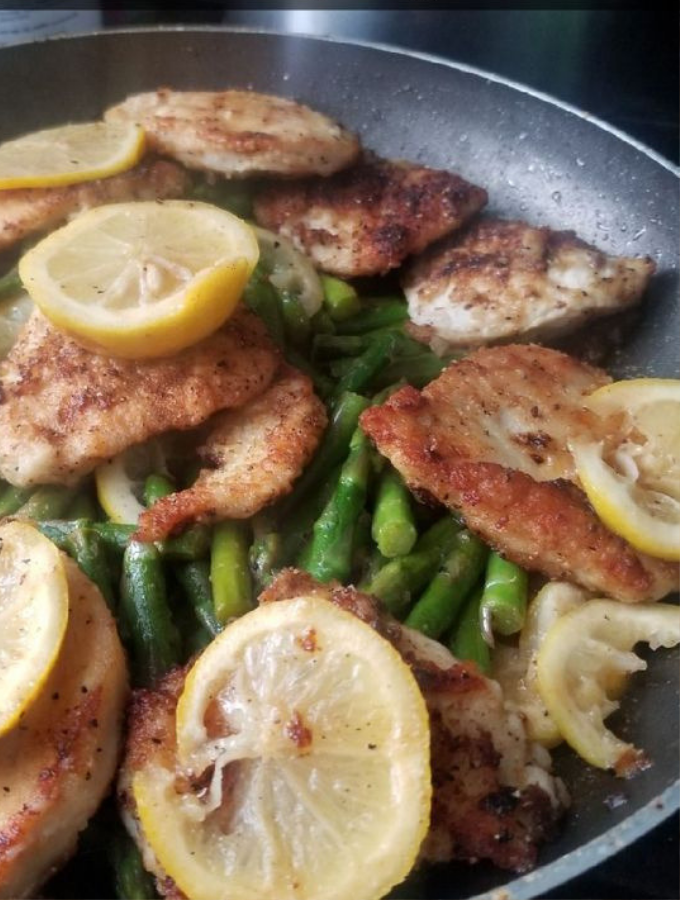 Who doesn't love a quick and easy recipe with few and simple ingredients? 5 ingredients lemon chicken with asparagus is the perfect recipe for busy weeknights when cooking is the last thing you want to do.
I don't know about you guys. But I LOVE a good recipe that I can whip up in less than 30 min. And, in addition of being easy to make it's also on the healthier side. So if you're like me I bet you will love this one.
This super easy, super delicious recipe is a great addition for you dinner menus. And it's ideal for people who would rather do other things (for instance NOTHING) than losing themselves in a grocery store.
CHICKEN, FLOUR, LEMON PERPPER, ASPARAGUS, LEMON.
That's the list you need for a quick grocery trip (if you ever had to).
FACT: this recipe technically has more than 5 ingredients but the main ones you need to take care of are the ones I listed above. But, you'll need a little bit of salt and a little bit of butter* and who doesn't have those at home*.
With all that being said, let's take a look on how simple it is to make.
First, cook the chicken breast until golden brown.
Then, sauté the asparagus in the same pan.
Finally caramelize lemons in the cooking juice.
And BAAM dinner is served!
Hot tip: don't overcook the asparagus. It should be a bit crisp when you bite it.
What I love about this super easy, super delicious recipe is that it's so versatile. You can toss any other veggies you want or even replace the asparagus. And you could serve it with whole wheat bread, brown rice or a salad. That way if you're making it more than once you family won't probably notice that they have eaten the same thing a couple of days before.
Perp

Cook

Ready In

Yield

3-4
Ingredients
1 pound boneless skinless chicken breasts.
¼ cup flour.
½ tsp salt, pepper to taste.
1 tsp lemon pepper seasoning.
1-2 cups chopped asparagus.
2 lemons (sliced).
Optional 1: 2tsp honey + 2tsp butter.
Optional 2: parsley for topping.
Instructions
1. Chicken: pound each chicken breast until it's ¾ thick (if the chicken breast are too thick, you can just cut the in half horizontally). In a shallow dish place the flour, salt and pepper. Then coat each chicken breast with the flour mix. In a large skillet, melt the butter over medium heat. Add the chicken and sauté for 3-5 minutes on each side. As the chicken cooks, sprinkle each side with the lemon pepper seasoning. When the chicken is golden brown and cooked through, remove from the skillet and set aside.
2. Asparagus: add the asparagus to the same skillet and sauté for a few minutes. Remove the asparagus from the skillet when it's still green and crisp (don't overcook).
3. Lemons: place the lemon slices flat in the skillet and cook on each side for a few minutes until they caramelize and pick up the brown bits left from the chicken and butter. Remove from the skillet and set aside. DO NOT stir the lemons or they won't caramelize.
4. Assembly: place all the ingredients back into the skillet. Starting with asparagus, then chicken and topped with the lemon slices.
5. Butter & honey sauce: melt the butter and honey in the same skillet or a separate one. And pour the mixture over the chicken.
Total Carbohydrate 10.4g 

3%
Sugars 1.4g