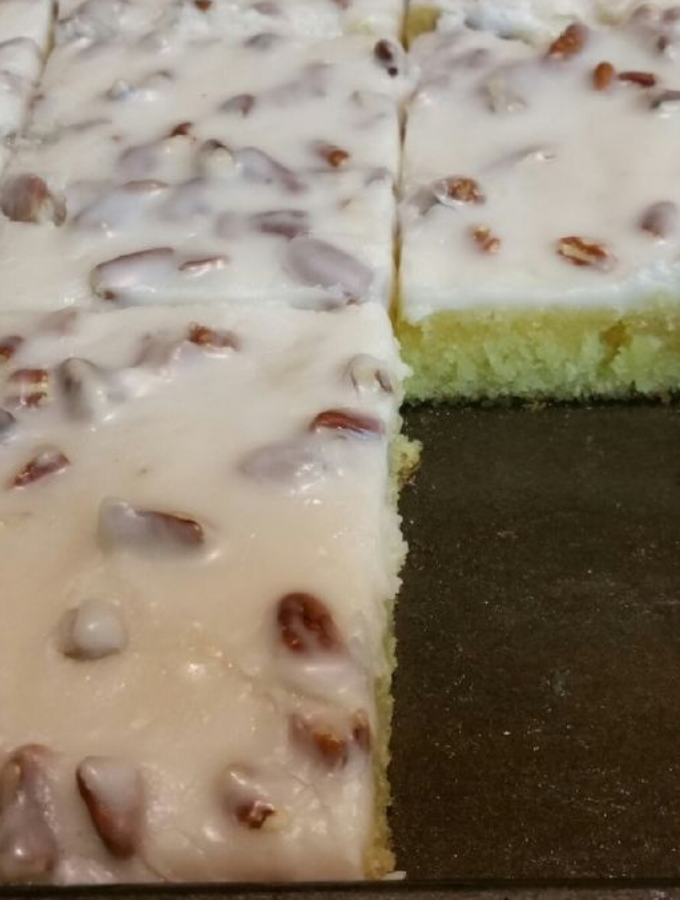 A super TEXAS SHEET CAKE, thin and fluffy white cake that is so easy to make. It's great for gatherings or parties as it can feed a crowd (up to 22 servings). With its sweet creamy frosting and light vanilla/almond flavors, it'll get you hooked in no time.
This Sheet cake is so addictive and has everyone begging for seconds. The vanilla and almond extracts we put in both the batter and the frosting add a depth of flavor that the cake won't taste the same without
As I mentioned before it's so easy to make or in another way it's a piece of cake! No complex steps or decorative skills nor special equipments are needed.
On a final note: My sincere apologies go to those who are watching their waistline. This cake is SO irresistible that you'll keep asking for more.
Perp

Cook

Ready In

Yield

20
Ingredients
CAKE

2 cups flour (all purpose)
2 cups sugar
1 cup water
1 cup = 2 sticks butter (unsalted, melted)
½ cup sour cream
2 large eggs (room temperature)
1 ½ tsp vanilla extract
1 tsp almond extract (optional)
1 tsp baking soda
¾ tsp salt

FROSTING

¾ cup = 101/2 sticks butter (unsalted, melted)
1/3 cup whole milk
4 ½ – 5 cups powdered sugar
½ tsp almond extract
½ tsp vanilla extract
½ cup sliced almonds (for garnish)
Instructions
Preheat the oven (350°F) and grease a 13*18 inch cake pan.
In a medium mixing bowl, whisk flour baking soda and salt.
In a separate, large bowl put sugar, water, melted butter, sour cream, eggs, vanilla and almond extracts then stir together until blended.
Incorporate dry ingredients into wet ingredients gradually while string consistently.
Pour the batter in the greased pan. Place in the oven and bake for 18-21 min or a toothpick inserted in the center comes out clean.
While the cake is baking, put all the frosting ingredients in a bowl except for the sliced almond and whisk until frosting is smooth and the desired consistency is reached.
Remove cake from the oven and let it cool for few minutes. Pour the frosting over the cake and decorate with sliced almonds.
Let the frosting set, then sliced into desired number of servings