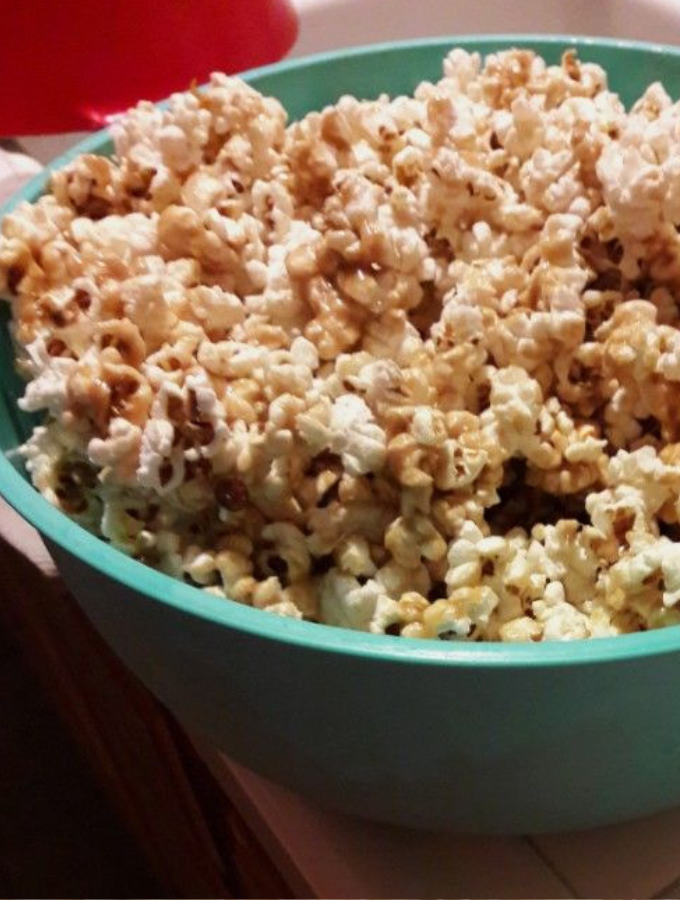 Salted caramel popcorn is my favorite snack of all time. It's the perfect salty/sweet combo. Oh! And the crunchiness uh It's great for parties, movie nights or even as something to munch on while you read your favorite book.
But how about homemade salted caramel popcorn, how does that sound? You may think to yourself it's not easy to make or it's gonna make a mess. I'm here to put your worries to rest. I have just to right recipe for you. It's surprisingly easy, it's just a little time-consuming.
And here is the thing. It's made with ingredients that are probably already in your pantry.
Popcorn kernels, maple syrup (instead of corn syrup because it enhances the flavor), some nuts (to give some variety to texture), and just a little extra salt for that sweet and salty balance.
Enjoy!
Ingredients
½ popcorn kernels (un-popped)
1 tbsp oil
1 cup butter (salted)
1 cup light brown sugar
½ cup maple syrup
1 tsp vanilla extract
1 ½ tsp kosher salt (divided)
½ tsp baking soda
1 cup whole almonds, optional
Instructions
1. Preheat the oven (300F). Line a large baking sheet with parchment paper.
2. Warm 3 kernels with 1 tbsp oil in a large lidded saucepan (if you don't have a pan large enough for all the popcorn you can make it in 2 or 3 batches).
3. When the 3 kernels pop, add the remaining kernels and shake to coat with oil. Cover the pan with a lid.
4. Once the kernels start popping shake the pan occasionally. Remove from the heat when the popping stops. Transform the popped corn in a large bowl (pull out as many unpopped kernels as possible).
5. Melt the butter, sugar, maple syrup and 1 tsp salt in a separate sauce pan.
6. Once the sugar is completely dissolved, bring the mixture to boil over medium high heat. Then lower the heat to medium (boil for 3-4 minutes without stirring).
7. Add the baking soda and vanilla; stir until the sauce is thick and glossy.
8. Remove from the heat and pour the caramel straight over the popcorn and stir quickly until the popcorn is evenly coated)
9. Optional: add the nuts to the popcorn simultaneously with the sauce.
10. Spread on the baking sheets and sprinkle ½ tsp salt on top. Place in the oven
11. Bake for 30 min (stir every 10 min or so).
12. Set aside to cool completely.
13. And let the party start.