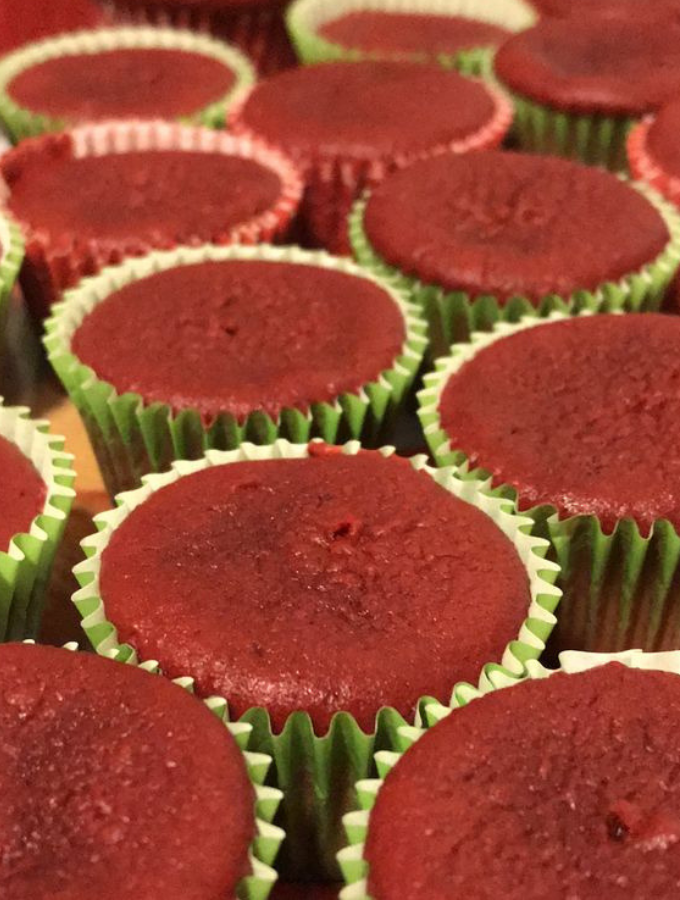 But, here is the problem. If you're a sweet-toothed cake-aholic person just like me, not fitting in your favorite jeans is just a matter of few of these sugar-loaded goodies (300+ cal/cupcake).
Red Velvet Cake is my weakness and I can't think of a better cake to eat on Valentine's Day. Topped with low fat cream cheese frosting you wouldn't even know these are light
Hmmm, so now what! Worry not. I'm going to share a recipe that tastes just like the classic red velvet cupcakes, but it's much healthier with less fattier ingredients. They're super tender, full of flavor and topped with low fat cream cheese frosting.
Now you can enjoy a delicious treat with less guilt!
Perp

Cook

Ready In

Yield

26
Ingredients
cupcakes

1 cup whole wheat pastry flour
1 ½ cups cake flour
2 tbsp cocoa powder(unsweetened)
1 cup sugar (+ more for garnish)
1 cup buttermilk ( low fat)
¾ cup plain and non-fat Greek yogurt
1 large egg
¾ cup unsweetened applesauce
2 large egg whites
2 tsp distilled white vinegar
1 ½ tsp baking soda
1 tsp vanilla extract
1 tsp salt

Frosting

8 oz. cream cheese (low fat)
1 cup powdered sugar
½ tsp vanilla extract
Instructions
Preheat oven (350°F) and line a muffin tray with cupcake liners.
Sift together flours (cake flour + whole wheat flour), cocoa powder and salt in a large bowl.
In another bowl, mix sugar, applesauce and Greek yogurt.
Beat in eggs (one a time, beating until each is fully incorporated). Scarp down sides of the bowl.
Mix in well vanilla and food coloring.
Alternatively add in the flour mixture (3 batches) and buttermilk (2 batches).
Mix together vinegar and baking soda (it will foam up). Then add the mixture to cupcake the batter.
Pour the batter evenly the cupcake try (filling each liner ¾ full).
Put in the oven and bake for 17-20 min or until a toothpick inserted comes out clean. Rotate the tray halfway through.
In a bowl mix and beat the frosting ingredients together.
Let the cupcake cool completely before spreading the frosting on top of each
Optional: mix well 2 tsp sugar and 1 tsp food coloring in a small bowl. Use it as a garnish on top of the cupcakes.