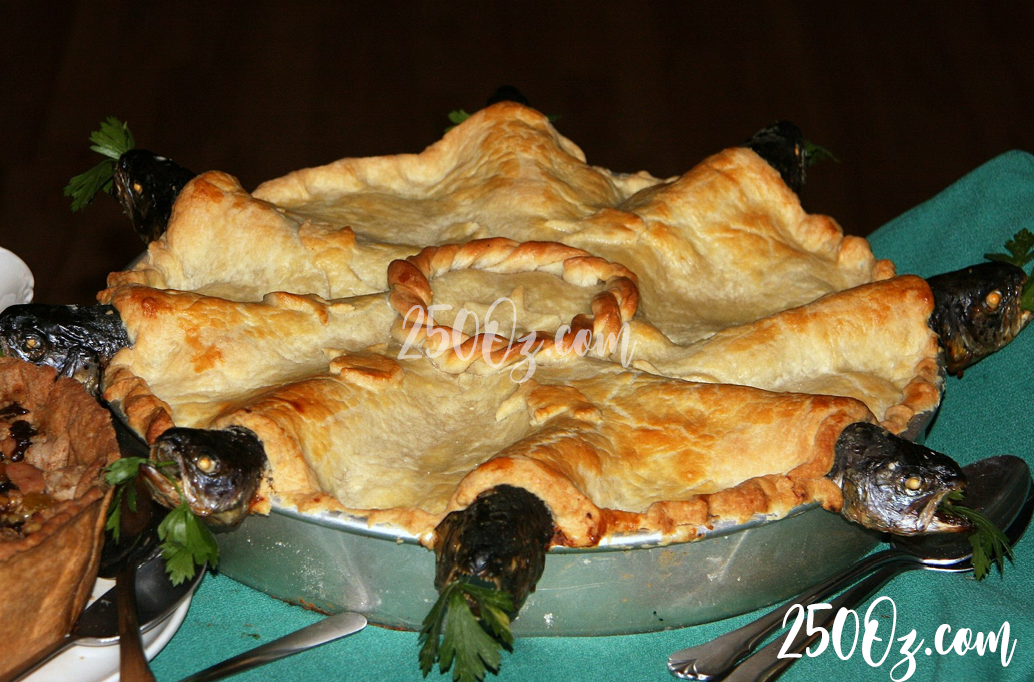 This pie comes from a small village in Mousehole in Cornwall in England where a fisherman from the 16th century named Tom Bawcock braved violent storms around Christmas time to catch fish and save his village from starvation. All the fishes he caught were made into a big pie where the fish heads were sticking out to show that there was indeed fish inside. Every year, on December 23rd, Mousehole celebrates with the Tom Bawcock Eve Festival and its traditional giant stargazy pie!
Perp

Cook

Ready In

Yield

6-8
Ingredients
Plain or puff pastry for 9-inch double crust pie
6 fresh pilchards or sardines, whole (heads and tails intact), scaled, gutted and deboned
6 tablespoons fresh breadcrumbs
⅔ cup milk
Juice and zest of 1 lemon
1 onion, peeled and chopped
1 tablespoon fresh parsley, chopped
Salt and pepper
2 hardboiled eggs, peeled and chopped
1 strip bacon, chopped
⅔ cup cider, preferably English dry
1 egg, beaten, for egg wash
Instructions
Wash the fish and drain it on paper towels.
Preheat the oven to 375°F, and line a baking dish with the bottom crust of pastry.
In a bowl, combine the breadcrumbs, milk, lemon juice and zest, onion, and parsley. Mix well.
Transfer the mixture to the pastry-lined baking dish.
Sprinkle with salt, pepper, chopped egg, and bacon.
Pour the cider evenly over the filling.
Cover with the top crust. Trim and crimp the edges, and brush with egg wash.
Cut 6 slits in a circle on the top crust and stick the fish in, with the heads facing up (as though "gazing at the stars").
Bake until the fish is cooked and the crust is golden brown (about 40 minutes).