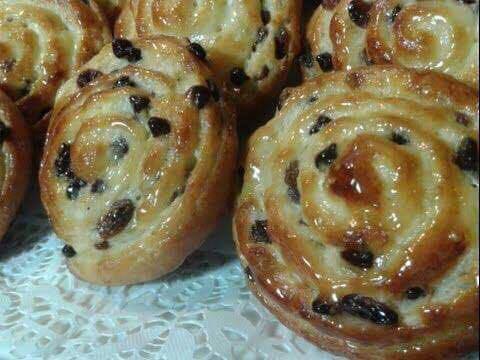 Ingredients
500 g white flour

15 g baking powder

50 g sugar granules

2 eggs

100 g butter

1/4 liter warm or less milk according to the flour

a little salt

and pastry cream.
Instructions
Take a little warm milk with a little baking powder and sugar granules and leave them aside until the volume doubles.
In the kneading machine, we collect the sugar granules , then the eggs and then the baking powder and mix all with the addition of milk gradually and take you for 10 minutes and then add the butter gradually until the mixture with the dough for about 10 minutes and cover and leave in a warm place until brewing.
Spread the dough out of the air and simplify the dough in the form of a rectangle, spread the cream on the face and spread with raisins and granules of chocolate and roll the dough in the form of role, enter the refrigerator a little and cut it with a knife or cut it directly with a thread,
Place the Schneck in the oven plate in a spaced and warm place leaves brewing again, and then painted eggs mixed with drops of vinegar and enter the oven for 20 minutes at 180 degrees.
After taking them out of the oven, add the jam.
Pastry cream:
500 ml of milk with 15 g sugar granules and a teaspoon of vanilla liquid, salt, all over the fire until boiling, in the meantime we mix the yellow of two eggs and add sugar to the granules and mix them well then add 20 g starch and 10 g white flour and mix all , Remove the milk from the fire after boiling and add the starch mix with the mixing quickly, we return all over the fire with a slow moving until the texture is creamy and so we get the pastry cream.
rest : 6h